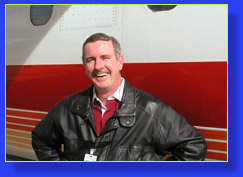 ThistleGreen Technologies was founded in 1999 to provide design & analysis services to the aviation industry. Steve Bowyer is the founder and president of the company. He started the business in order to make his extensive experience in aircraft structures design and certification available to a wide range of customers. Mr. Bowyer has 20-plus years of experience in aircraft modification and repair while working for airframe OEM's, airlines and repair stations. This provides the technical capabilities that ensure the company's success.
Since 1999, the company has enjoyed steady growth and an ever expanding list of clients. These include:
Heavy jet aircraft modifiers such as TIMCO, Goodrich, Aerocas and Aviation Equipment Inc.
Corporate aviation modifiers including Midcoast Aviation, Garrett Aviation Services, Bombardier Aviation Services and New Flight Corp.
Avionics manufacturers such as Honeywell, Universal Avionics, Securaplane Technologies and Wulfsberg.
A wide variety of repair stations and aircraft operators throughout the USA.
Engineering companies such as Paragon Transportation LLC and Aerodesign Inc.
International customers in need of FAA certification services and on-site support.
Mr. Bowyer is a Designated Engineering Representative appointed by the Federal Aviation Administration. This delegation is in the structures area, and it includes FAR 23 & 25 airplanes, with a special designation for repairs & alterations.
Mr. Bowyer's experience includes OEM and airline structural repair design, military modification design, corporate jet structural modifications, avionics installations, environmental testing (RTCA DO-160), test rig design and corporate interiors installations. He has been involved in several international programs involving FAA certification of aircraft in foreign countries. Mr. Bowyer has a Bachelor of Engineering degree and is also a SMELS pilot.
Bob Buechsenstein works with us, his specialty is design of structural repairs and modifications. With a strong design, MRB & liaison backgound, "Bix" has engineering experience on jet transports, business jets and spacecraft. His other qualifications include a Bachelor of Science in Aerospace Engineering degree as well as an A&P license and training in composite repairs.
John Baker also contributes his considerable talents as a liaison engineer and stress analyst. Mr. Baker's experience includes time spent with a number of large OEMs on a variety of civil and military projects. He has a Bachelor of Engineering degree and is trained in several cutting edge software packages.
This wide range of skills available at ThistleGreen, coupled with a powerful network of associates, can provide client firms with the experience and expertise they need for their projects.